We're taking some time to let you get to know the people in the Nourish Food Marketing office. What makes them tick, and what passions drive them (besides food) when they're not at work? This time, we're talking with one of our incredible designers. Turns out, she's someone you can really look up to!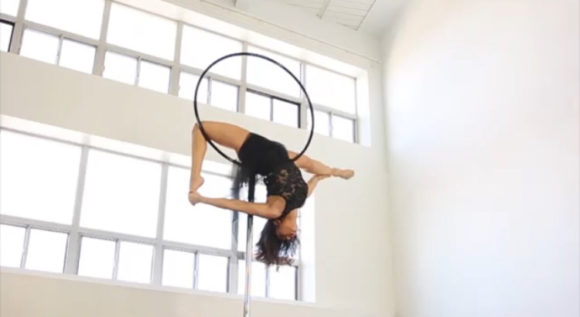 Our Designer is Literally On Top of Her Game
Eman started her pole and aerial hoop journey just under 2 years ago and immediately fell in love with the performance art, the adrenaline rush of being suspended in the air, and the community. She practices aerial hoop, pole sport, ballet, acro, chair dance, and hand balancing between 14 and 18 hours a week and performs regularly at venues, private events, and festivals all over the GTA. She will be competing in the Canadian Pole Fitness Association (CPFA) aerial hoop competition in June. Eman entered the sport with no background in dance or gymnastics, so it's no surprise she strongly believes it's never too late to take up a new skill. She adds that passion, dedication, and a great attitude will get you far in whatever you decide to try. Given that Eman began performing 6 months into her aerial training, it's hard to argue with her philosophy! Her favourite quote? "When all else fails, join the circus." We've seen your design work, Eman – we don't see any signs of failing!
Fav Foods For High Flying
Eman believes that nutrients should come from raw whole foods whenever possible. For a treat, she's a huge fan of the Paleo Waffles from Impact Kitchen. Her favourite smoothie after a workout includes cherries, bananas, kale, collagen powder, bone broth powder, spirulina, hemp hearts, and cacao nibs blended in coconut water or almond milk. Eman's Pro Tip: If you don't add too much liquid it becomes like ice cream!
Favourite Hashtags
#circuseverydamnday #beastlybuilt #torontoperformers