Like so many people, a lot of us at Nourish are struggling to balance our love of snacks with our love of being healthy, or healthier, anyway. There's an overall trend towards healthier eating in our society, as outlined in the 2018 Nourish Trend Report. Anything that helps make that easier would be welcome in most kitchens! So we decided to try our hand at air frying with the Philips Viva Collection Airfryer.
By cooking with a minimal amount of oil, an air fryer can potentially reduce the calorie count of fried food by as much as 50%. We challenged two of our own to give it their best shot!
Chef Al went toe-to-toe and tongs-to-tongs with Junayed in an air-fried battle for the ages! Read on to find out what they thought in our test and review of the Philips Viva Collection Airfryer.
What Is It?
A countertop-sized device for frying food with a minimal amount of cooking oil and constantly circulating hot air.
Our Competitors
Al, Test Kitchen Chef
Vs.
Junayed, Account Coordinator
What Did They Make?
Al: Peanut Butter Cake
Junayed: French Fries
Al
Why did you choose this recipe?
In my head, I was envisioning myself air frying doughnuts in mere minutes that would magically come out crisp and fluffy. Mountains and mountains of these "healthy", hot, and heavenly doughnuts being gobbled up by the handful (by me).
Then the Philips Viva Collection Airfryer was brought in and I realized that it would be quite difficult unless I found a recipe that would only make 4 small doughnuts, or if I did a regular recipe, I'd need the patience of a gestating elephant.
But I wanted to impress! I wanted to make something in that gadget that no human has ever done before!
Though my line of work requires me to research and develop original dessert recipes, I didn't want to spend hours coming up with a new one. I decided I wanted to try and bake a cake in this gadget.
I found a recipe for a peanut butter cake because right now I am
obsessed
with anything peanut. Oh, wait… my cat's name is Peanut, so perhaps I've been obsessed with anything peanut for the past 7 to 8 years… I digress.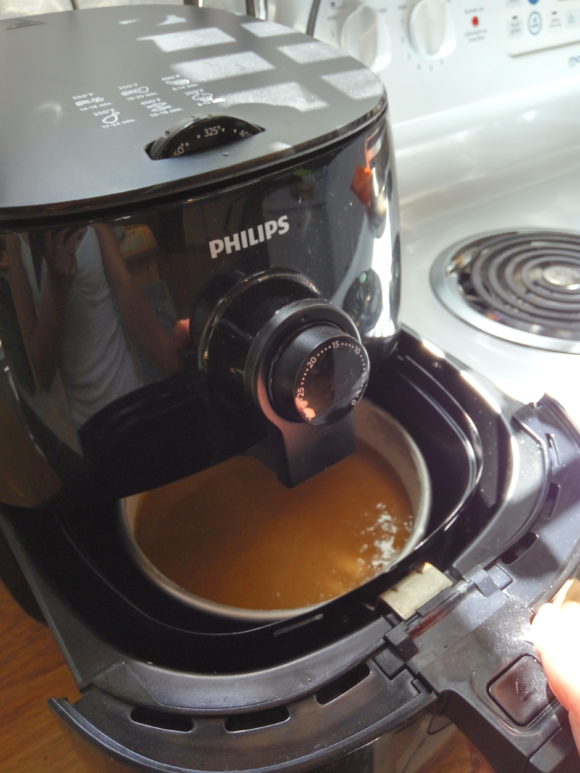 What was your experience like?
I never had an Easy-Bake oven as a child growing up in the 80s, but I can imagine that this would be like how it felt to bake in one of those!
I halved the recipe that I found, as I needed the batter to fit into a 6-inch cake tin. I prepped the tin and preheated the Philips Viva Collection Airfryer like I would a regular oven. Lowered the temperature by 25 degrees as I had been informed that an air fryer works like a convection oven... a HARDCORE convection oven.
After making the cake batter, I popped the tin into the Airfryer and about 20 minutes later my first layer came out. Took out the cake, flipped that layer out (as I only had one 6 inch cake tin), washed, prepped, and filled the tin with the remaining cake batter. After another 20 minutes and I had both layers of my peanut butter cake on my cooling rack.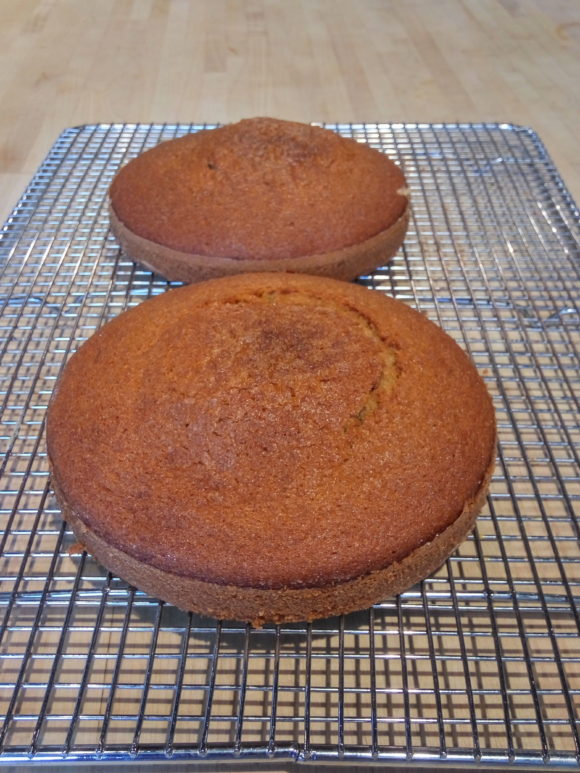 Both cakes were very slightly underdone, probably a minute or two more and the cakes would have been perfect. Other than that, the cakes had a good crumb and weren't dry at all!
I found it a bit difficult, but not impossible, taking the cake tin out of the Airfryer. I had to use a pair of tongs and an oven mitt to carefully remove the finished product from the "basket".
Would you recommend the Philips Viva Collection Airfryer?
It was fun experimenting and baking with an air fryer and I think it would be a great gadget to use for small meals. It definitely beats turning on the oven in the summer and makes a perfectly sized dessert for a party of 2 or 4. (Or just you!)
If I could change anything about the Airfryer? I would definitely say a bigger version. If you're a family of one or two, the size of the basket is fine. But add more people to the mix and you'll need to make 2 to 3 batches before everyone gets fed.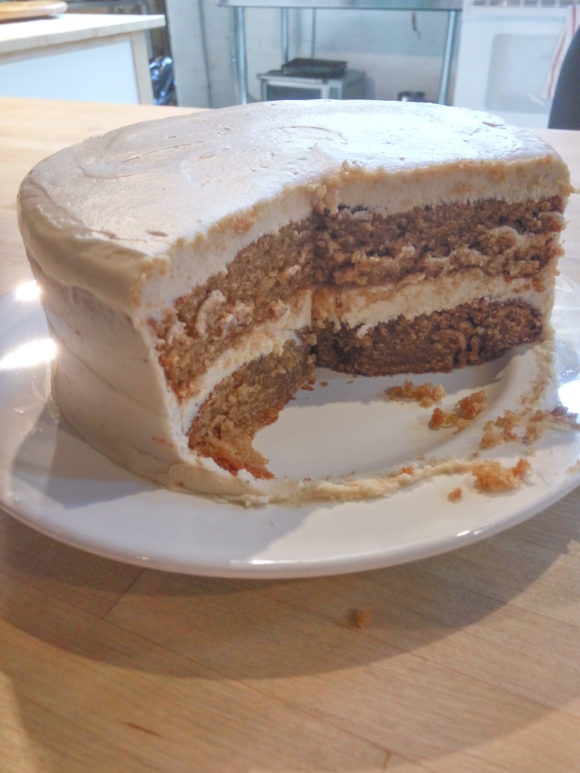 Would I bake a cake in the Airfryer again? YES.
Would I make other things in the Airfryer? YES.
Junayed
Why did you choose this recipe?
When I signed up to test this product out, the first thing that came to my mind was to take my mom's frozen samosas and air fry them. My co-workers said that would be cheating since the samosas would turn out perfect because my mom makes incredible samosas.
I started to think, what can a person that rarely cooks (and I mean RARELY; the last thing I made were frozen hotdogs on a BBQ - which turned out to be amazing) make using this air fryer.
I didn't want to do anything complicated because I was scared I was going to mess up. Someone said, "Why not do french fries?"
I said, "Great idea! let me head to the grocery store and buy french fries." Apparently, they meant from scratch.
What was your experience like?
I took 2 potatoes we had in the Nourish kitchen and washed them, then, using the mandolin, I sliced the potatoes. The french fries came out thinner than I expected. Once they were all cut, I turned on the Airfryer to preheat it. I realized that I cut too many potatoes and had to freeze half of them for another time.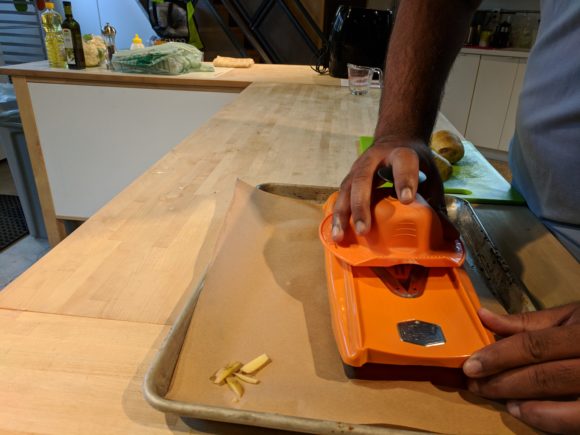 While the Airfryer was warming up, I put in a tablespoon of olive oil and mixed it with the potatoes. I put the potatoes in the Airfryer and set the timer for 15 minutes. It sounded like a hairdryer at max speed. A quarter of an hour later, I pulled out my french fries. Actually, they were more like Hickory Sticks, all flat and crispy because I cut the potatoes thin.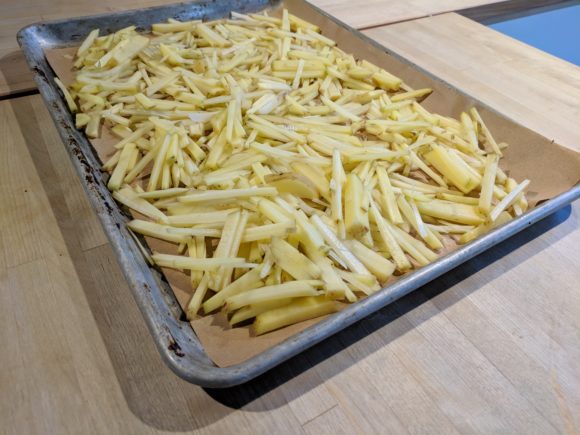 I added a pinch of salt and they were ready to eat. Turns out everyone loved them!
Would you recommend the Philips Viva Collection Airfryer?
Yes, I would. The Airfryer was really easy to use and very easy to clean. In fact, I liked it so much that I returned my mom's recently purchased competitor's air fryer and bought her the Philips Viva Collection Airfryer instead. The air fryer has motivated me to cook other types of food. Since I love steak, that is going to be the next item on my list.
And guess what? The samosas cooked up very nicely in there.