It's back! Welcome to our 2020 Gift Guide! The Nourish team contributed their best ideas for Foodie gifts and entertaining tips to help make your holidays a little easier. Anything catch your eye?
For the tea drinker
Tea drinking, especially at home, is on the rise. The Vesta Double Wall Cup Infuser from Tealyra is so convenient, especially if you like blended loose leaf teas, herbal tea, fruits infused in your water, and more.
Tealyra | Vesta Double Wall Cup Infuser
For the coffee drinker
Since we're all home more, we're taking time to appreciate things like coffee that we usually rush! Turn that cup of joe into a relaxing ritual with the stylish Flair Espresso Maker Classic.
Flair | Espresso Maker - Classic
Want to keep that coffee hot but don't want to drink from an old Thermos? The Ember Mug keeps it at your favourite preset temperature with a built-in heater.
For the baker who likes to move
KitchenAid has come out with a cordless line of mixers to free you from the outlet. Now you can dance AND bake at the same time!
KitchenAid | Cordless Countertop Appliances
For the smoothie drinker on the go
The BlendJet fits in your bag or knapsack and packs a battery good for 15 uses and a built-in USB charger. From baby food in the park to margaritas on the beach, this could be the perfect sidekick when the warm weather returns. Comes in 9 different colours to match your style!
For celebrating and preserving those family recipes
As a tribute to someone who's passed or a personalized gift for your favourite chef in the family, an engraved cutting board with a family recipe would be a lovely, one-of-a-kind gift. Check Etsy – there are many options, and you're supporting local!
For the deep dish pizza fan
We're not trying to stir up a debate, but no one does pizza like they do in Motor City! This Detroit-Style Pizza Pan is just like what they use in restaurants like Gianna's, so take a crack at it yourself. It's not like you'll be able to pop over the border for the real thing anytime soon!
Lloyd Pans Kitchenware | Detroit Style Pizza Pan
...Or to take homemade pizza to the next level
COVID has many of us putting money into landscaping – an outdoor pizza oven is a novel and delicious way to upgrade your backyard or outdoor kitchen. Be honest: would you rather have a new retaining wall or a fresh-baked pizza hot from the oven? Choose from commercially-made ovens, or DIY your own with plans from the 'net.
For the smoked meat lover
Lots of us have discovered the joy of delicious locally-sourced meat. Plus, Restaurants Canada's 2020 Chef Survey pegged food smoking at #3 on the Hot Trends list. To combine the two, try the Barrel House Cooker 18C drum smoker. It's a 3-foot vertical smoker that cooks faster than a traditional charcoal smoker with minimal operator input. It also works as a tabletop hibachi for some kebabs or yakitori, or a standard charcoal BBQ for burgers and roasted veg.
Barrel House | Barrel House Cooker
For the home mixologist
Some local pubs and restaurants are offering their signature cocktails in convenient to-go kits. Dim the lights and choose the playlist for bar vibes at home. Check out this example from Project Gigglewater in Toronto. It's like Hello Fresh for cocktails!
Project Gigglewater | Cocktail Kits
For the seafood nut
Seacuterie is trending! And, it has never been so easy to gift, with this artisanal canned Canadian seafood collection, including Atlantic lobster, PEI mussels, and Ontario trout. It comes with a serving board, bowls, and utensils, too. Make your shellfish aficionado say, "Aw, shucks!" this Christmas.
Scout Canning | Holiday Bundle
For the person who must have the best of literally everything
Go ahead – be a name-dropper! This is Ina Gartner's favourite pepper mill, and she knows her way around the kitchen! Easy to load and to customize your grind.
PepperMate | Pepper Mill and Salt Grinder
For the person who craves fried comfort food
Air fryers are all the rage for making fried food with none of the guilt. There's less cleanup, and it's safer than deep frying too!
For those missing the tastes of travel
Swap "bon voyage" for "bon appetit" with a snacking subscription! Universal Yums is a safe and tasty alternative to actual travel right now. Each month, your recipient gets a treat box from another country. The boxes are well thought out, highlighting flavours and brands unique to the country.
Universal Yums | International Snack Boxes
For the pandemic puppy
Need something to occupy Fido while on that work Zoom call and they get the "zoomies"? A snuffle mat allows dogs to use their noses while searching out treats or kibble and provide some much needed indoor stimulation.
Wholesome Canine | Snuffle Mat
Bonus Stocking Stuffer: Pandemic Entertaining Tips for 2020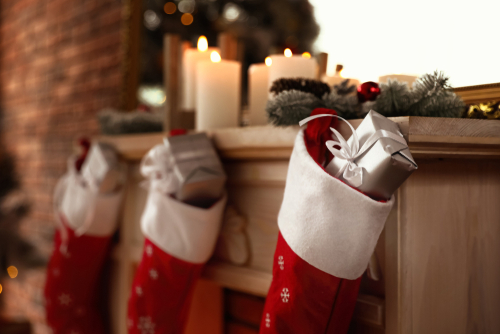 Where some see drawbacks, we see opportunities! Here are our top tips to make Holiday Season 2020 something special.
Ask Me Anything: Each person attending (either in-person or virtually) comes armed with one original question for a family member, perhaps about likes & dislikes, "have you ever?", memories of the past or dreams for the future – you may learn something amazing you didn't know! This year, groups will be smaller, so it might be a nice way for people to connect with one another on a deeper level.
Sharing is Caring: Creating shared opportunities for joy is very important at this time. If you're entertaining during the holidays from afar, create a Spotify playlist and give everyone access to listen. Now, book a Zoom dance party and get ready to get down. (Boomers, do your stretches, first!)
Not a dancer? Courier a DIY holiday decoration art project kit to your group and make it together, apart. It'll be an annual reminder of the craziness that was 2020 in years to come.
Helping Hands: Since Christmas will be celebrated In smaller groups or bubbles, it might be nice to do something a bit more hands-on this year. Usually, when hosting, you'd want to have as much done in advance as possible. Instead, take this opportunity to do something together and get everyone involved for a change. It could be decorating and setting the table or preparing the apps and desserts. Take advantage of the intimate setting and enjoy the fact we can slow the holidays down a bit.
Comfy for Christmas: A scaled-down holiday is a great excuse to keep things casual. How about a Christmas PJ party? Enjoy a laid back evening lounging in your Christmas pyjamas without judgement – and you can eat as much as you want and still be comfortable!
Connecting with Food: If you're one of the many people who can't make it home this year for the holidays, here's one to try! Recreate one of your family's favourite dishes and share it with your bubble to spread the joy of home. You'll not only get to share your traditions and culture, but you might even learn something new about where you come from.
Virtual Tasting Party: Host a wine/spirits/chocolate/cheese/tea/cookie tasting event. Invitees buy the same items, and you gather via video conference to taste them. Then, everyone shares which ones were their favourite/least favourite and why. (Keep notes for your next gift-giving occasion!)
If you all live close to each other, you could change up the format: agree on an item to taste, and everyone buys their favourite to drop off at each person's home. It's like a virtual cookie swap (or wine, or cheese, etc.)!
Show Some Love to Live Theatre: The entertainment industry was hit hard by the pandemic, and it's not an easy thing for a theatre to change strategies. Many theatres have digital versions of "A Christmas Carol" and other classics available live or on-demand. Skip your usual streaming service for a night in at the theatre. Tell other family members or friends you want to watch it "together" and share the experience.
There are many choices available around the world; here's a sample to get you started.
To Do Canada | Theatre Performances from Across the World
Reduce, Reuse, Rejoice: With all the extra free time, 2020 has been a great year for getting organized and paring down our excess possessions. As you put up the decorations this year, take this chance to purge some things you can do without or which never get used. Pass them along in a care package of Yuletide spirit to those who don't have as much to brighten the season.
Hopefully, you've found some inspiration to help make the best of the most unusual Season of Giving any of us have ever seen. Happy Holidays!