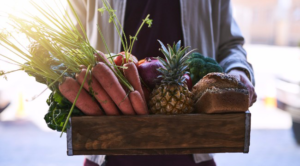 The meal kit market is heating up, with numerous (about 150) players positioning themselves for a piece of the action. So far, that action has been limited, with only 5% of Americans saying they've bought and made a ready-prepped meal. Still, the glass-half-full view of the situation is that 95% of the market remains untapped; even more so in Canada where we lag far behind in meal kit adoption.
Will there be any room left after two retail giants step into the arena, though? Amazon made known
its intention to join the fray
back in July, no doubt hoping to cash in on its affluent Prime customers. We now hear that Wal-Mart is joining the game, and wants to
offer meal kits online
before the end of 2017. Rather than offering its own line, Wal-Mart will be a portal for a selection of meal kit makers. It's clear that a lot of businesses are banking on the meal kit market breaking big.
Grocery chain Kroger has taken a different tack for fresh food options by
opening a standalone restaurant
,
Kitchen 1883
, in October, and expanding ready-made meal selections across its retail banners. Fresh, healthy meals ready for dine-in or take-home should appeal to those who want to eat good food and save time, which are often mutually exclusive goals.
When it comes to taking grocery convenience to the next level, though, Wal-Mart may soon be far ahead of the pack. They are proposing
a home delivery service
that not only brings groceries to your door, they come right in and load up your fridge - even if you're not home. Smart-home technology users will open the door remotely, monitor the delivery person via security cameras, and then watch to see the door is locked tight when they leave. Is this the future of grocery shopping convenience, or a lawsuit waiting to happen?