What do you think of when you hear the term "food fraud"?
A recent study
out of Dalhousie University, entitled "Food fraud and risk perception: Awareness in Canada and projected trust on risk mitigating agents," found that 63% of consumers are worried about food fraud - that what they're buying isn't actually what they're eating. Of those surveyed, 42.7 percent believe they have bought a counterfeit food product at some point. Seafood and fish (27.9 percent) was the top-selected category where fraud was experienced, followed by liquids such as oils and wines (20.9 percent), fruits and vegetables (13.9 percent), deli meats (11.6 percent) and baked goods (9.3 percent).
Critical Insight: Consumers are less likely nowadays to give your food product the benefit of the doubt. You need to tell them how it's made, where it comes from and what is in it - transparency is critical.
How is consumer education catching up, and how should your brand react?
According to Google Trends, we are currently encountering one of the highest all-time peaks in users searching for the term "food fraud." Consumers want to know where their food is coming from, and a growing number of online tools make this task ever easier. [caption id="attachment_1617" align="aligncenter" width="300"]

Source: Google Trends[/caption] A recent CBC feature claimed that DNA testing found that a brand of fast food chicken only contains
50% real chicken
created national interest - and a swift
counter-claim
from Subway. Whatever the eventual outcome, media reports like this encourage evermore conversations around the subject of food fraud, deepening an already growing public interest.
The importance of building trust - made matters
Consumer education has now become a vital aspect of brand storytelling. Brands need to talk to consumers in a way that enchants and informs. It also must tell consumers the truth. In our work, we focus on telling the Made story - made by, made where, made how. Sharing this kind of information builds the trust you need to succeed in the market and protect yourself from allegations of food fraud. [caption id="attachment_1618" align="aligncenter" width="300"]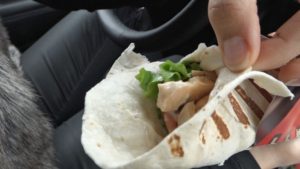 Source: http://www.cbc.ca/news/business/marketplace-chicken-fast-food-1.3993967[/caption]