SIAL Canada is North America's largest food innovation show. This year's edition in Toronto showcased 1,000+ exhibitors from 50 countries, and more than 20,000 food industry professionals from Canada, the United States, and 60 other nations strolled the show floor. It's an incredible opportunity to discover food & beverage trends as they emerge and see who is pushing their field forward and how.
So, from all that, what did the Nourish Team find inspiring? Here are some products and trends that caught our eyes, whetted our appetites, and fired our imaginations.
Drinking in the Best of Beverages
A predominant trend this year was functional and botanical beverages. We saw numerous distillates and drinks targeting specific need states, like stress relief. We liked that many weren't about mimicking alcoholic drinks, opting to celebrate what's unique and inherently appealing about them rather than focusing on what they're missing or subbing in for.
A great example is Cafezia coffee. Their coffee (which is organic and Fairtrade, two excellent boxes to tick) contains healthy herbs and claims to be less harmful than regular coffee by eliminating that caffeine crash. It tasted like regular coffee because it IS regular coffee, but enhanced to make it a healthier choice for your morning cup — or pot for some people. This idea of enhancing a product you already love to make it better for you instead of substituting an imitation is right on-trend.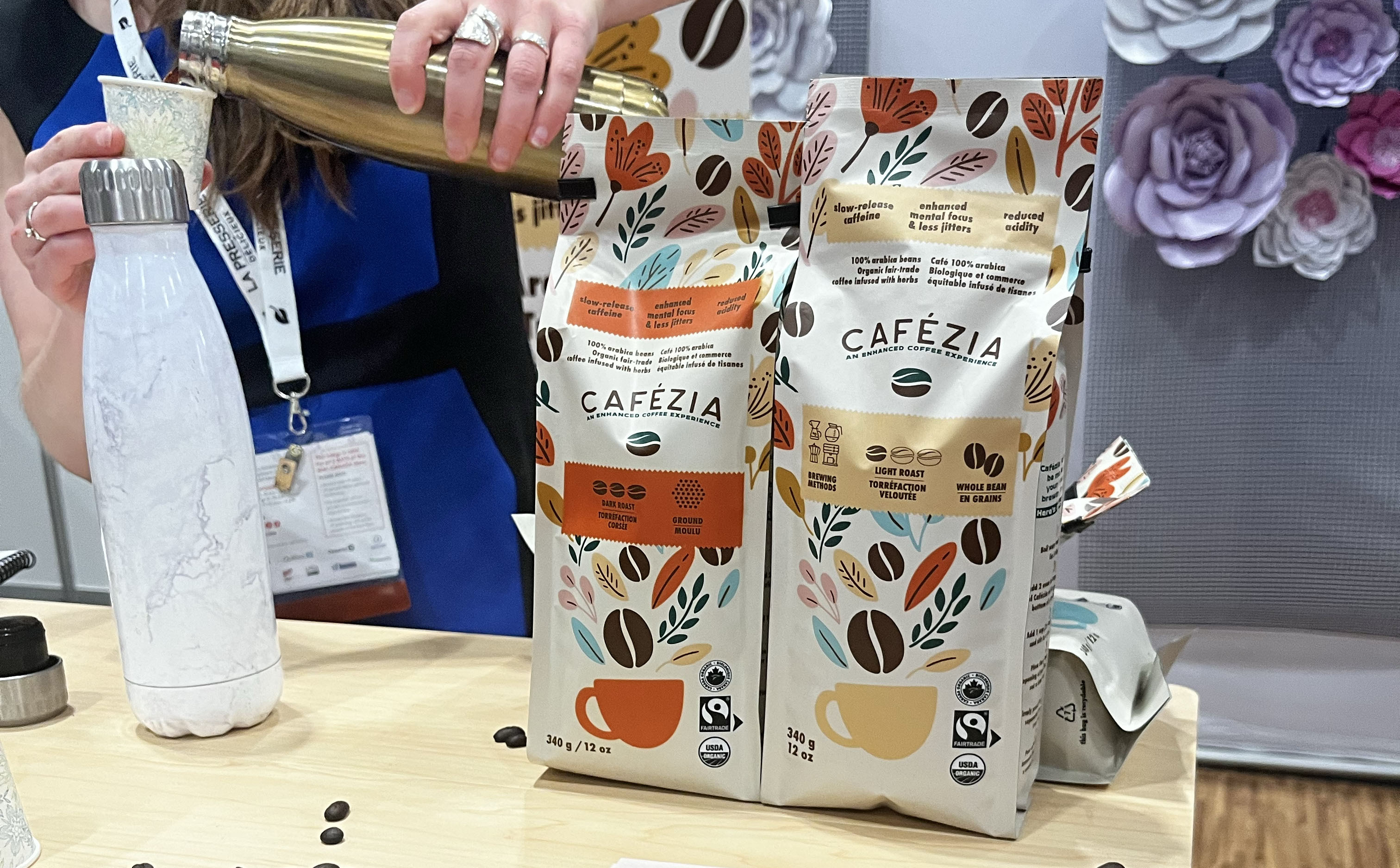 We're giving a shout-out to Newfoundland-based Milksta's Boobie Latte, the world's first decaf lactation coffee made with superfoods that "makes motherhood a latte easier" for breastfeeding women. It's a clear example of the female-forward food trend, providing a solution for nursing moms who want to curb caffeine cravings while aiding their milk supply. Almost every woman on our team has family traditions around what to feed a new mom when she's nursing to help with supply. Add this one to the list!
Sticking with the crucial coffee category, we were impressed by non-dairy collagen creamer Sun Under The Sea. Their tasty products contain collagen derived from Canadian sources, primarily fish skin and scales, and they claim to have the highest bioavailability among other collagens. This is a significant sustainability play to help the oceans and an easy way to add the benefits of collagen to your everyday morning cup of joe.
The non-alcoholic RTD Paloma from HP Juniper was a wow for the team. The flavour was great, tasting just like a classic Paloma with tequila. Those who tried it appreciated the citrus notes and a bit of sweetness. And, as we're marketers, we have to say the packaging is beautiful! This is a tasteful and authentic way to make those who can't drink — or choose not to — feel included.
Tasting the Trendiest Foods
Very few of us at Nourish will say no to good chocolate. So, when we say we enjoyed the oat milk chocolate bar line from UK-based H!P Chocolate, we really mean it. The boldly coloured and patterned boxes drew us in, and the product lived up to the promise of the packaging. It's vegan chocolate with a creamy mouthfeel, it's plastic-free, sustainable, and slavery-free. What's not to love?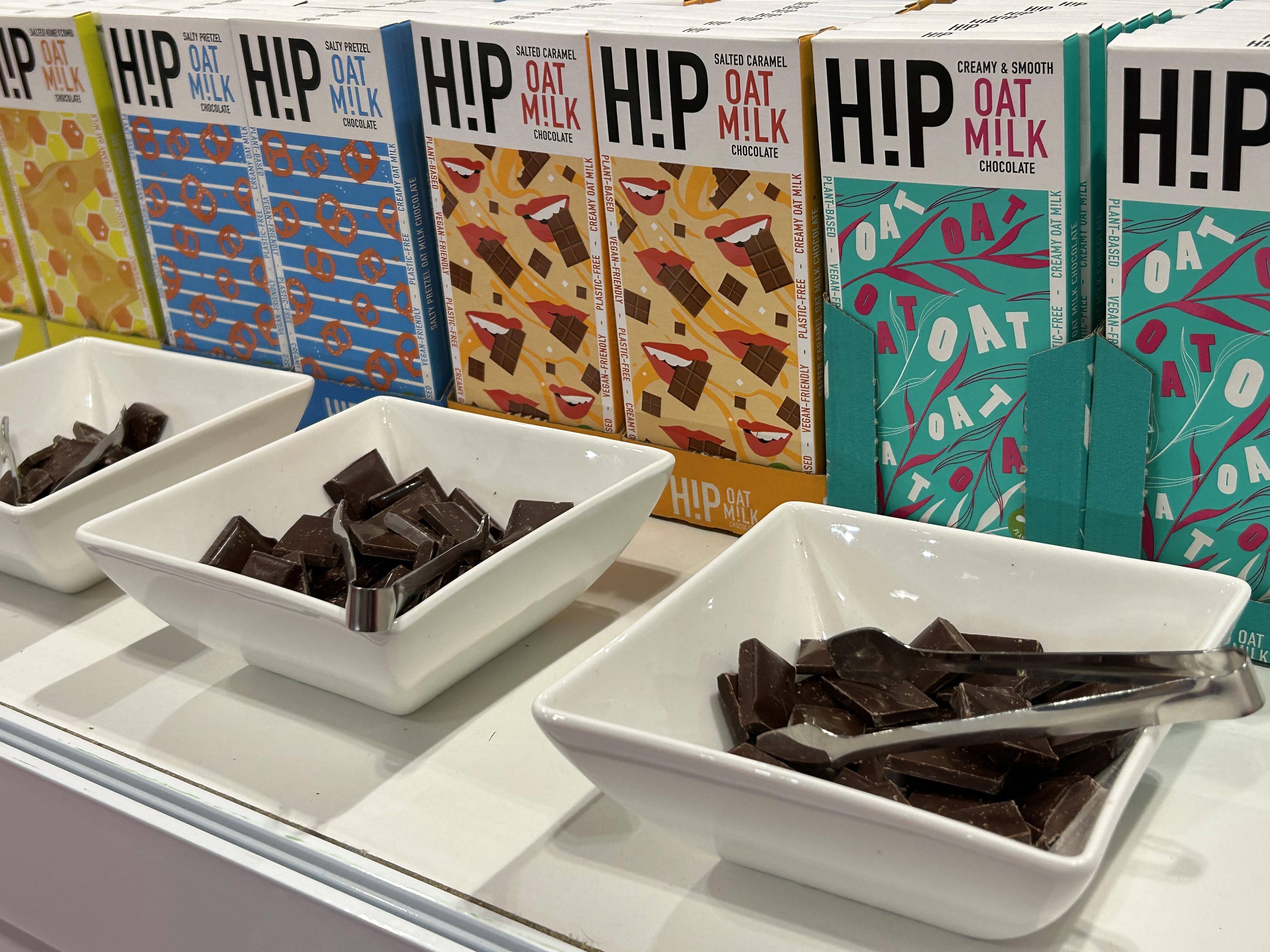 Sticking with better-for-you snacks, Tempeh Chips from Indonesian producer Archipelago have taken our office by storm. It's an innovative way to enjoy tempeh. And, based on the satisfying crunch and "I'll just have one more" taste, it may be a way to finally mainstream this versatile fermented plant protein.
Getting Techy with New Equipment
Stalwart commercial food equipment manufacturer Omcan showed they have their eyes on the future. Showcased at their booth was their line of Stagionello curing cabinets. These labour-saving devices refrigerate, preserve, smoke, and cure meat and fish. Now that's some awesome automation.
Digi's self-service scale was a great example of how wireless tech can make people's lives easier and shopping quicker and reduce food waste. Let's say you're buying unpackaged steel-cut oats. This unique system transmits the PLU code from the bin to the checkout counter — no more memorizing codes or hunting for the pencil to jot it down on a tag (a tag destined for the garbage). Place your registered reusable container on the machine, and it weighs the food (it already knows the tare weight of your container) and prints a ticket with the price. Not only is it great for the customer, but it's also better for the clerk (assuming there is one!) and could reduce profit loss from mislabelled products.
Booths that Won Our Hearts
The teams' favourite booths showed that imagination and passion, rather than big budgets, can win the day.
BY2048, a producer of a plant-based smoked salmon alternative derived from carrots, flipped the usual booth design and stood out with its seafood shack window and feel. A small company from Quebec, they built and drove this booth to the show.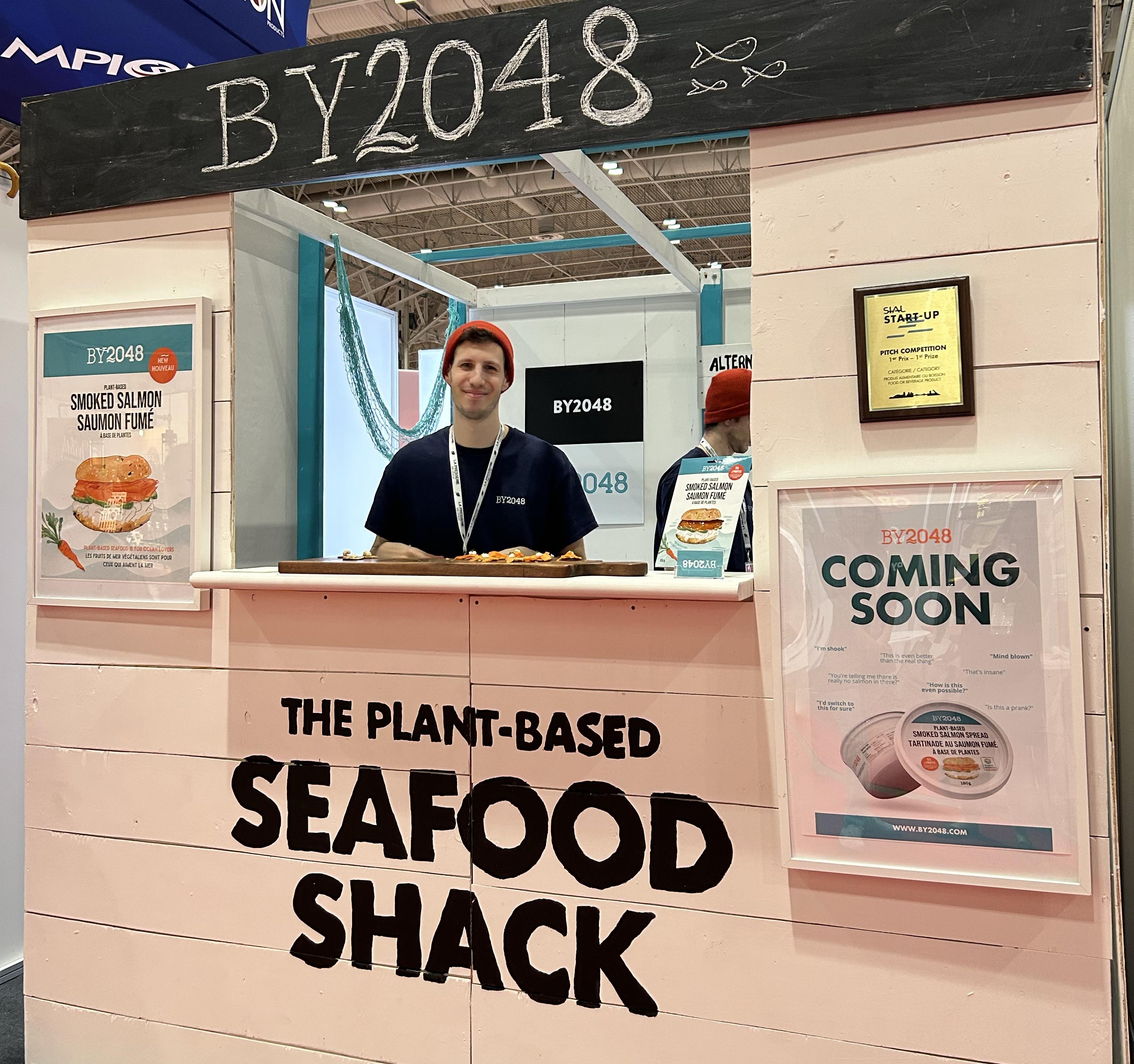 Tempehine showed that enthusiastic and knowledgeable founders in a booth could make all the difference. You don't need a fancy booth if you have a great product and bring the passion. They were such wonderful, genuine people; you couldn't help but love them. And their line of seasoned ground and cubed tempeh products was great too! Rather than offer straight samples, they showed their value by using them in recipes, including a delicious pasta sauce and exceptional energy bites.
Sustainability Standouts
SIAL has sustainability at its core, and small wonder — this crucial trend is here to stay. Standouts included the packaging on the NOMZ nomzicle. Not only was the product delicious, but it was also stick-free, and the no-mess packaging was recyclable.
And we saw lots of tasty upcycled products. For example, Canadian Lobster Oil manufactures a finishing oil alternative to truffle oil. They use upcycled lobster parts, canola oil, and maple syrup for a zero-waste food supply chain.
SIAL Innovation finalist Greenbowl's Fibre Pot hit many sustainability points — and the products were delicious! They produce RTE meals with planet-friendly, shelf-stable, ready-to-eat lentils and upcycled carrots and barley.
Diana's uses surplus or rejected bananas to make their products, including banana chocolate bites, and return the peels to farmers for use in compost. This was a simple effort to be sustainable with a tangible impact by creating a lovely closed-loop system.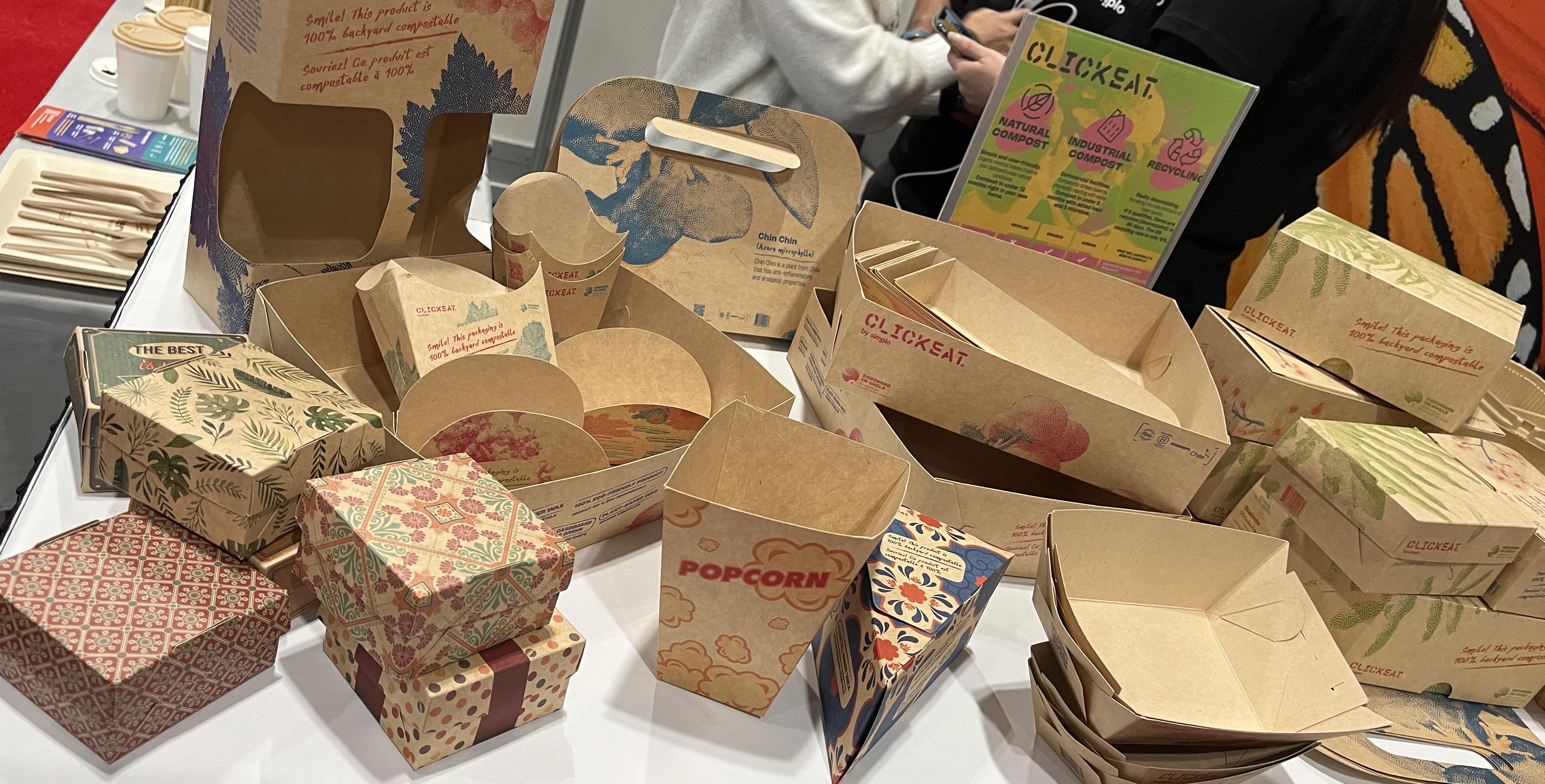 ClickEat, a certified B-Corp, featured sustainable, compostable packaging made of hemp and printed on with vegetable-based dyes.
Innovation winner KAT (Kingston Aluminum Technology) claims to be the "only company in the world that can shape an aluminum bottle with asymmetric features on a compact production line." Their patented process uses 35% less aluminum while delivering the same structural integrity. It also allows small brands to take advantage of these sustainable custom-shaped bottles.
And finally, full marks to the Daily Bread Food Bank, who collected all of the leftover food and samples for redistribution to their clients. The perfect happy ending to a food innovation trade show!