The entire Nourish team attended the 78th edition of the RC (Restaurants Canada) Show, this year themed Heart & Hustle, from April 10–12 at Toronto's Enercare Centre. Why is this show so important to us that every person from every department at Nourish walked aisle after aisle to see it all? And why should you care?
For openers, it's the biggest foodservice show in Canada; this year, over 1,000 exhibitors were on site, and 20,000+ attendees walked through the doors. And, of course, foodservice is big business, at one hundred billion dollars annually in Canada.
Perhaps most importantly, innovation in the food ecosystem traditionally starts in fine dining, then makes its way down to QSRs and, finally, onto retail shelves. You can trace that journey at RC Show and also see where unexpected new pathways for innovation form. If you want to position yourself for success, this is the place to get ahead of the curve.
So what were the standout products and trends across the 350,000 square feet of show floor and nine themed pavilions? Let's review!
Tackling the Single-Use Plastics Issue
Sustainability has become table stakes (forgive the pun), especially with better alternatives to banned single-use plastics being desperately needed.
Of note were sugarcane straws by Straw Matters. A welcome alternative to soggy cardboard straws, their "sipli" product line features more than a half-dozen different straw types for everything from sodas to bubble tea. The straws are an upcycled product made from sugarcane agricultural waste, are fully compostable and biodegradable, they pass the mouthfeel test, and they won't go soggy.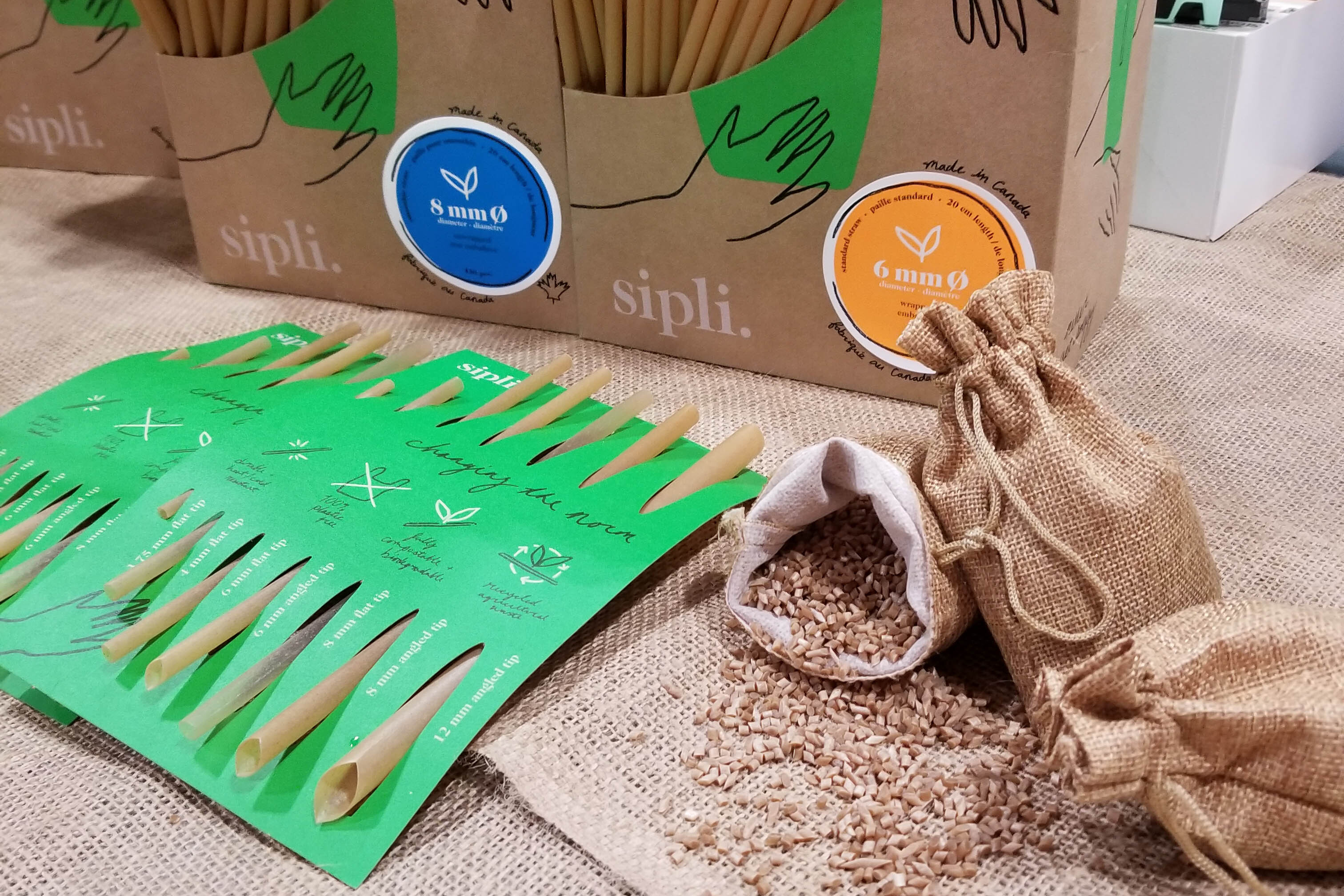 Single-use straws made from upcycled sugarcane
From the "reuse" pillar of "reduce, reuse, recycle," Friendlier offers businesses a closed-loop system providing locally-made reusable (up to 100x) plastic containers that they pick up and sanitize for reuse, delivered to your location.
Non-Alc & Nostalgia Were Prominent at the Food & Drink Booths
Nonalcoholic beverages were in full attendance, taking their rightful place with their alcoholic counterparts. The taste profiles are getting better and better and cover everything from craft beer to spirits. One of the favourites was Grüvi Sparkling Sangria in a convenient single-serve can. It tasted great and, most importantly, tasted like real sangria.
Nostalgia was a highly visible marketing force with retro colours and fonts used in booth design and packaging. There were also many nostalgic artisan soda and seltzer flavours, like Cherry Slushie. One standout was farm-to-soda The County Bounty Artisanal Soda Co., with a line-up made from Ontario-grown produce with flavours like Raspberry Lime, Strawberry Basil, and Sour Cherry.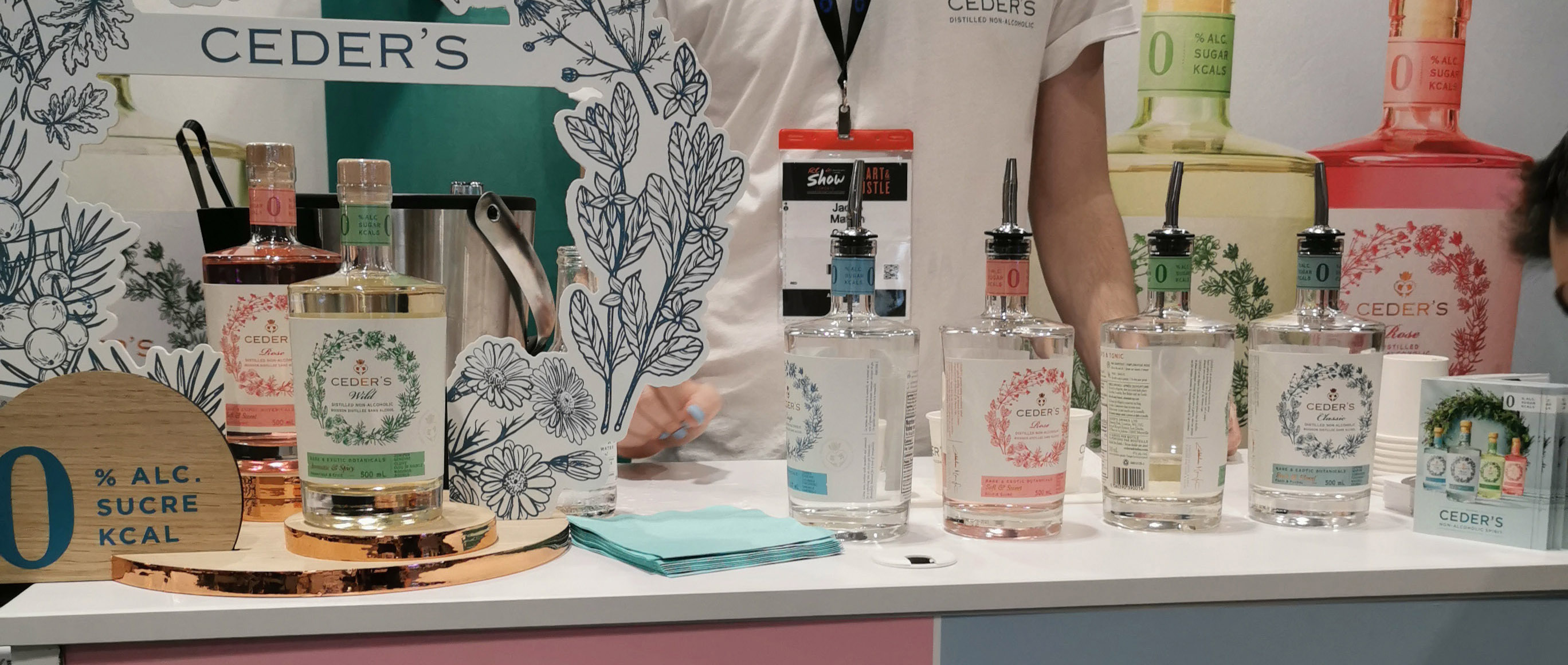 Beautiful retro packaging for non-alc spirits
Worth noting was the smaller showing for faux proteins this year. Among the most noteworthy of those present was Fable, a mushroom-based meat crafted from simple, minimally-processed and all-natural ingredients with 11 grams of protein per serving. Made from shiitake mushrooms, this slowed-braised plant-based meat had a great meaty texture and juicy flavour. In addition, it had fewer ingredients and less sodium than most faux meats due to mushrooms' natural umami flavour.
For those inclined to imbibe, the most creative alcoholic drink we encountered was the "JW Penicillin" — lemon juice, honey ginger syrup, Johnnie Walker Black, a half lime slice, and finished with a spritz of Lagavulin 16yo scotch from an atomizer for a breath of smoke and peat. The wow factor was the clever application of the Lagavulin — you could enjoy some of the best aspects of it without wasting it in a mixed drink, allowing the "JW" to do what it does best. We found this a clever application of an ultra-premium product to tempt customers while preserving the all-important profit margin.
The Rise of the Robots Continues
There seemed to be less POS tech and robotics this year, perhaps due to the current economic climate. Still, automation was on display in many forms.
We rather liked the robotic sushi rice roller that made perfect nigiri rice balls or up to 1,300 consistent maki rice sheets per hour. At around $21k, this would make sense for a high-volume sushi restaurant or ghost kitchen.
There were also tons of automated coffee solutions and quite a few robotic servers, including several distributing brochures for their suppliers. Another great way to fill the gap of labour shortages!
We Came for a Glimpse of the Future — We Weren't Disappointed
One of the most innovative (and stylish) devices we encountered was Plantaform's space-efficient Rejuvenate smart indoor garden. It looks like a spaceship and claims to be "the world's first smart indoor garden that uses fog to grow plants." It incorporates NASA's latest agricultural technology, fogponics, instead of aeroponics or hydroponics. It's a Canadian-made product that could add a nice experiential element to fine dining.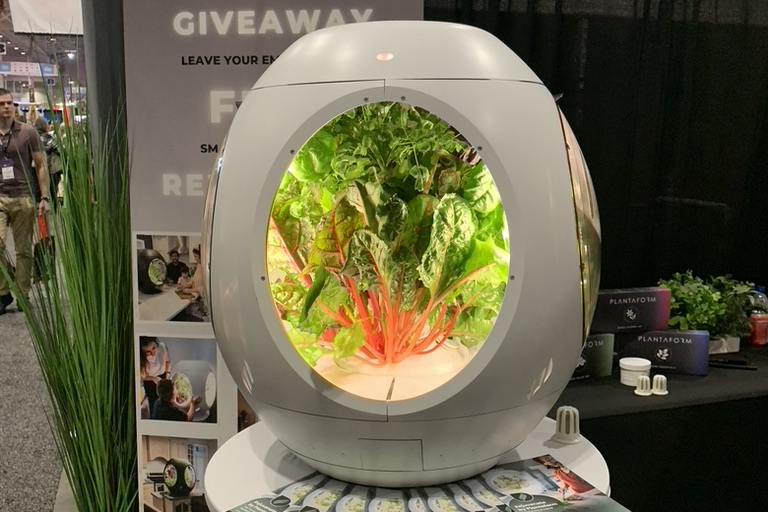 Growing veggies with "fogponics"
Earth is "Planet Pizza"
Pizza ovens were seemingly everywhere we looked — we clearly have yet to hit "peak pizza!" Some that caught our attention were traditional wood-fired ovens with added automation, like a revolving pizza stone. In addition, there were some interesting cuisine mashups, including a "pizza" of naan bread, cheese, and tikka masala sauce.
We also noted, to our pleasure, that plant-based cheese is getting tastier and succeeding in delivering that must-have cheesy pull on pizza. Canada's Daiya sampled one of their dairy-free frozen pizza offerings, and it got two thumbs up from us, including from a non-vegetarian, non-pizza-eating Nourish staffer who shall remain nameless.
And the Award for Best Booth Goes to…
DoorDash easily had the most stylish and nostalgic booth, recreating a 50s-style diner in large scale, complete with a retro car-shaped table. Sadly, it offered nothing of value in the booth itself, making for a letdown. So much potential wasted!
We thought Egg Farmers of Canada (EFC) had the best combination of looks and functionality: a clean, modern-looking restaurant vibe, stylish lighting, easy accessibility, and an inviting seating area. Brand Ambassadors offered samples of two dishes described in the 2023 Foodservice Trend Report from EFC, and preview pamphlets of the Report were available. Full disclosure: Nourish designed and constructed the booth, EFC being a cherished client on their foodservice marketing side. We also wrote and published their Trend Report, pamphlets, and follow-up email, created the recipes and made the samples.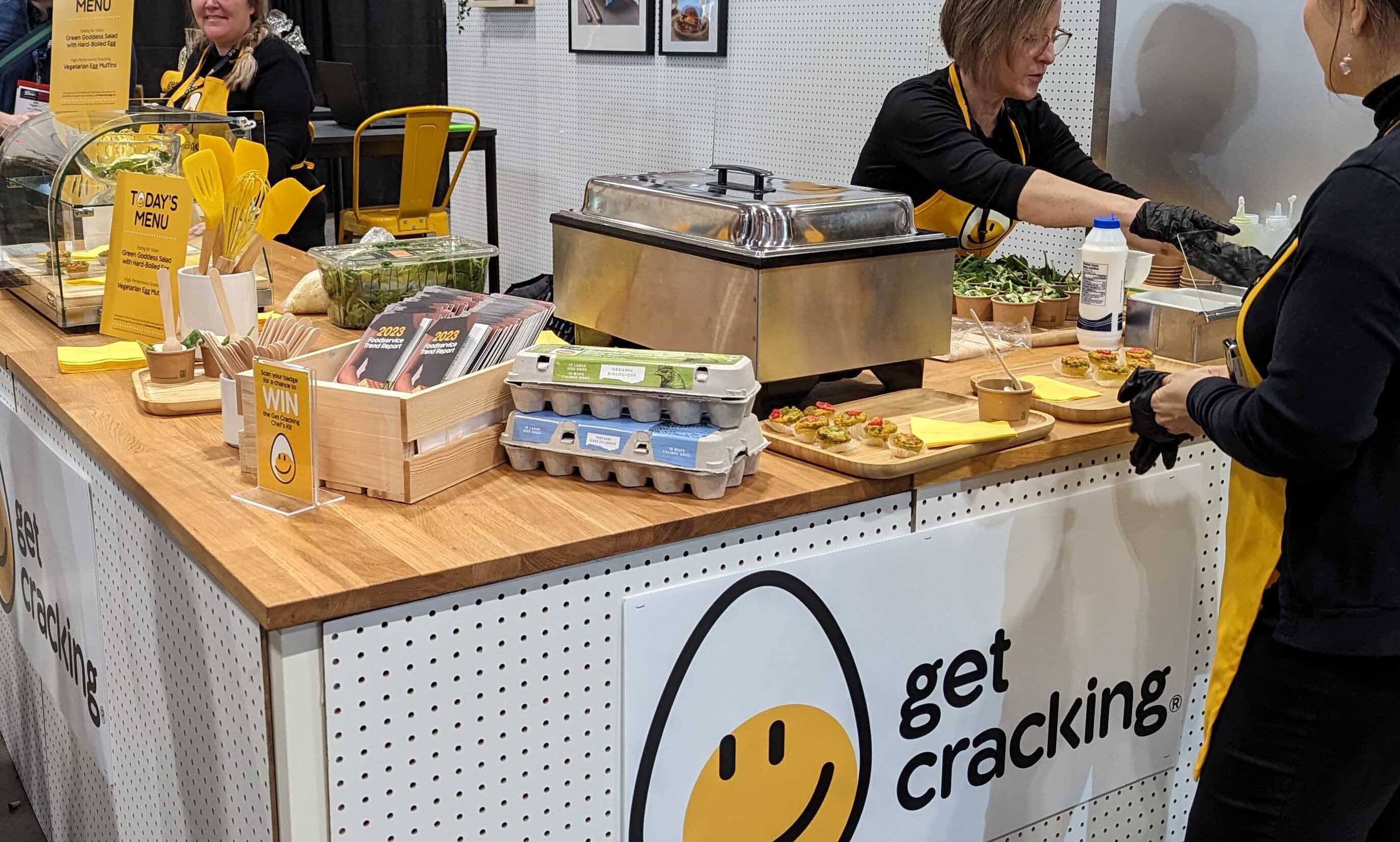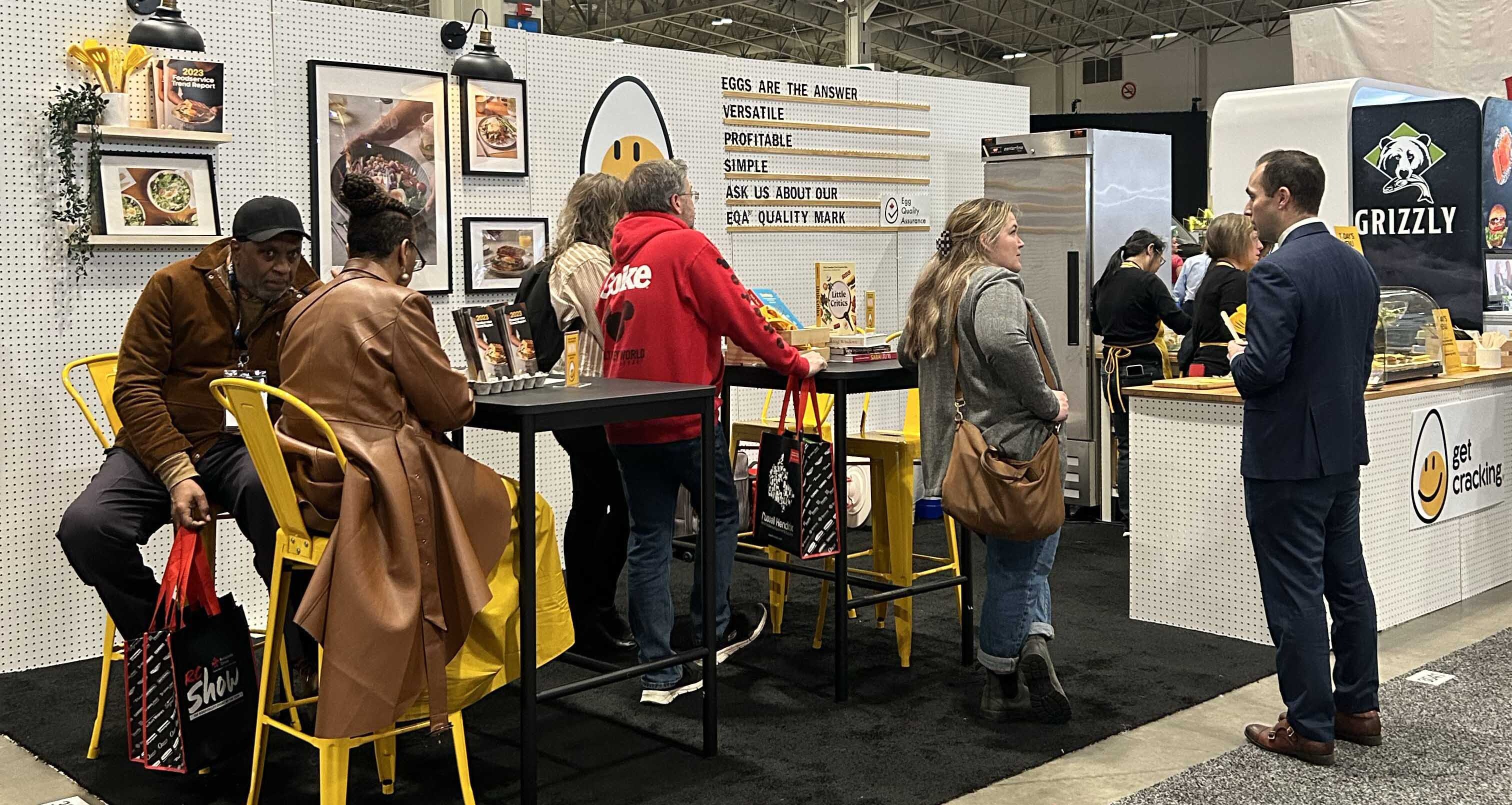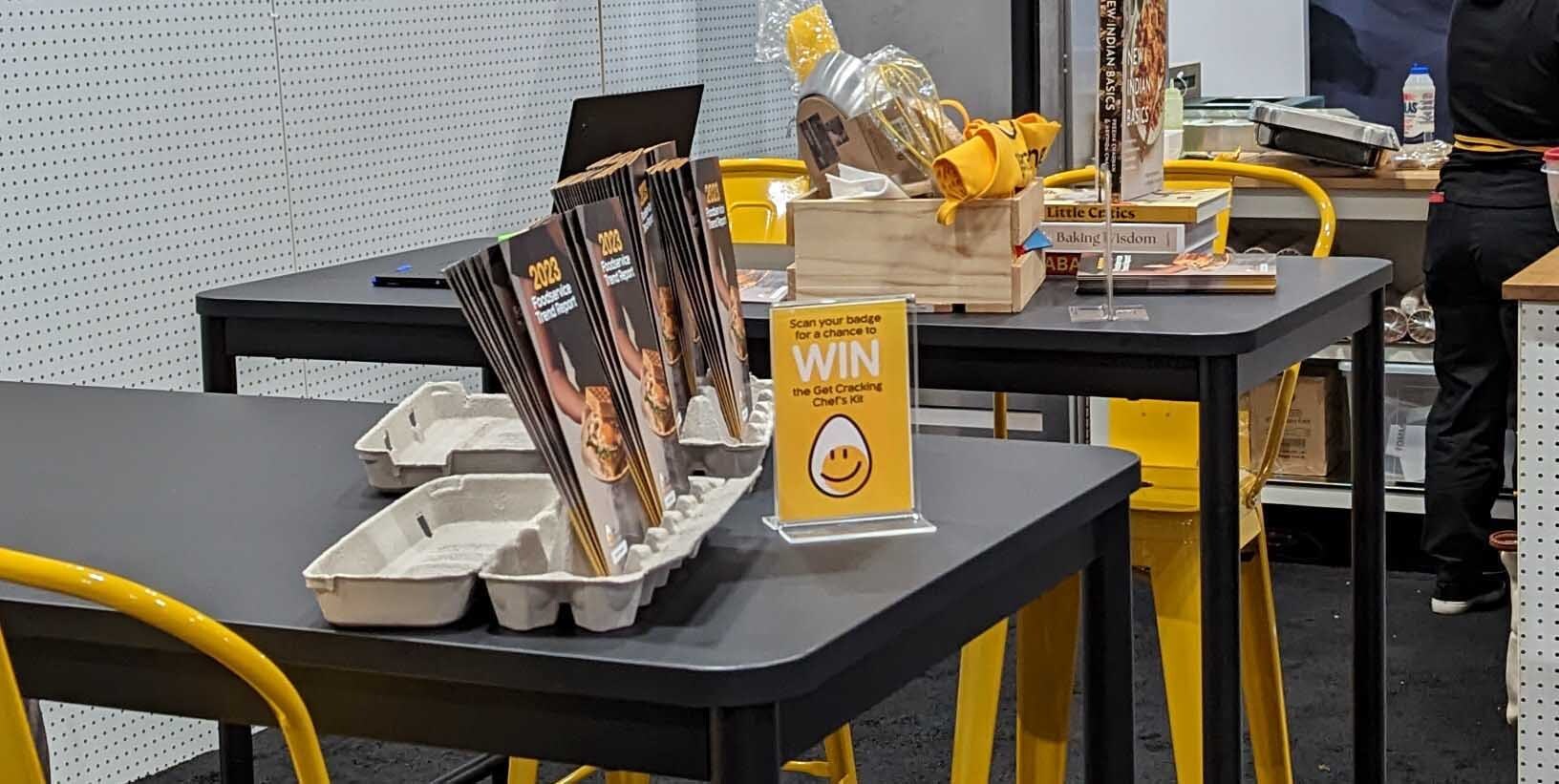 Things were buzzing at the EFC booth!
If you've never been to the RC Show, consider adding it to your list for next year — the 2024 RC Show webpage is already live! It's an incredible event to see and be seen, uncover the trends, and make critical connections in the foodservice industry and community.
And for all your trade show needs, talk to us. We'll make sure you put your best foot forward when it matters most.