Connecting with consumers in Québec takes more than a straight translation of your English marketing communications. Quebecers form a distinct society with Canada, with separate opinions, preferences, and behaviours. If you don't understand that, you can't succeed in this market.
Nourish President Jo-Ann McArthur, inspired by Google's Year in Search results for Canada in 2020, spoke with our Team Lead, Chef d'équipe - Québec, Alessandra Cerroni, for insights.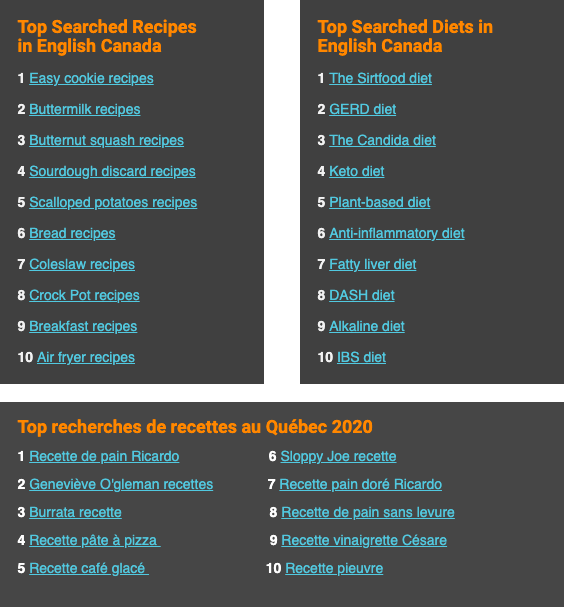 Source: https://trends.google.com/trends/yis/2020/CA/
Jo-Ann: Alessandra, we see several bread recipes and lots of comfort food in what trended in 2020! We know that fewer consumers overall are making diet-related resolutions in 2021. But this has always been the case in Québec, where people are less likely to diet and are more likely just to monitor their weight. We also know that Quebecers eat dessert more often, as well. Why is "diet" a dirty word in Québec?
Alessandra: Québec is a distinct province with great local pride in language, culture, and of course, food. Québec's food culture has roots in French, British, and Indigenous history and is best known for rich, fatty foods such as meat tourtière, poutine, and cheese! As with many cultures, especially European ones, food is synonymous with and a central part of socializing with friends and family. We're not against improving our lifestyle choices through exercise and better eating habits, but we don't obsess about it! In a sense, dieting or limiting ourselves would mean limiting our "joie de vivre", something that not only connects us to our distinct culture, but also our important social connections.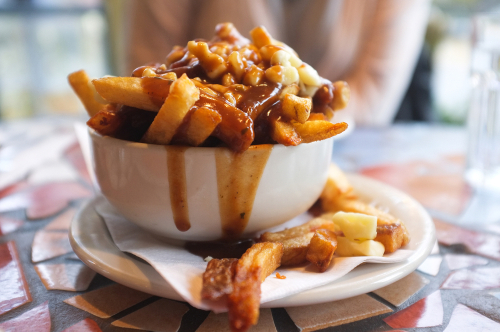 J: We also see that three of the top 10 recipes in Québec are related to local Québec personalities. Québec has always had its own star structure that is much stronger than English Canada's, so I guess that shouldn't be surprising.
A: Not only are local personalities more important, but so is local food. Quebecers see themselves as a distinct society from the rest of Canada (and North America); therefore, protecting and celebrating this identity is a priority. As a result, we tend to support local products and businesses more than other Canadians. Being part of this distinctly Québecois province amidst this large Anglo-North American continent makes us feel a strong sense of belonging and responsibility to our local society and economy. This reflects in all our choices, from local media to local retailers and local food products.
Food critic Jacob Richler wrote that Québec's cuisine is better defined than that of Canada, due to a language barrier with the United States' dominant culture and having had more time to develop.
J: And is it true that Quebecers also tend to eat dinner earlier and linger longer at the dinner table, including eating dessert more often than the rest of Canada?
A: Generally speaking, Quebecers start to congregate in the kitchen at 5 pm, where families often cook together and eat at a slower pace than other Canadians. Although it seems early to start dinner time, it's likely linked to the French "cinq à sept" (five o'clock to seven o'clock) tradition, which can be shared at home or a bar or restaurant. This is a time when we share a glass of wine and hors d'oeuvres (starters) and linger into dinner time and afterwards. The only equivalent in English Canada would be "Happy Hour," which is more specific to grabbing a drink after work (usually starting at 4 pm) and is less family-oriented.
J: And that includes eating dessert more often than the rest of Canada.
A: In the 21st century, dessert might be an indulgence, but in the early days, Québec forefathers needed those extra calories to get through a hard workday in one of the coldest climates in North America. Many of these cream and sugar-heavy desserts have carried over to be a staple of Québec culture, like Pouding Chômeur (literally translates to unemployment pudding) and Tarte au Sucre. Sugar pies are simply a filling of sugar and maple syrup mixed with some cream, plenty of butter, a bit of flour, and a pinch of salt baked in a pie crust.
While Québec's traditional dessert culture revolves around maple syrup (with 91% of the Canadian production originating from Québec), there is an important influence from many cultures, especially those found in Montréal. French croissants and delicate pastries are easily accessible, as well as Greek, Lebanese, Indian, and Italian pastries, to name a few.
Interestingly, we see a resurging pride and use of elements from the boreal forest in desserts such as sweet clover (an affordable local alternative to vanilla) and nordic berries such as Sea buckthorn and Honeyberries (aka Haskap).
J: And is it true that Quebecers have a more adventurous palate?
A: Montréal got its reputation for being one of the top food capitals in Canada and North America by marinating old traditions in novel ideas and presenting them in modern and inspired ways.
Renowned chefs like Martin Picard, David McMillan, and Charles-Antoine Crête are just some of the many talented chefs pushing the limits of Québec cuisine and its notoriety on the international stage. As locals, we are spoiled by not only the multiculturalism of the city but by the chefs' ingenuity that points a spotlight on our city. It would be hard for me to say which came first – our palate for adventure or the adventurous food options available on our local restaurant's menus!
"Québec is a place where you can sell everything from squab to rabbit, and every part of the animal is put on the menu." -Chef Normand Laprise of Toqué!
J: And at the same time, Quebecers are warier of genetically modified foods compared to the rest of Canada?
A: This goes back to our confidence and trust in local produce over organic options that are often shipped from thousands of miles away. The produce is picked and treated using standards we don't know or have control over. Genetically modified foods are seen in a negative light for similar reasons, creating doubt in our minds. Local foods have a much better reputation thanks to our local chefs and stars that promote them and the Aliments du Québec label that supports them, not to mention the pricing is usually better.
J: And how about drinking and dining out patterns?
A: As National trends point to an overall reduction in alcohol consumption, also affecting Québec consumption. But, Québec continues to lead other provinces in per capita consumption of wine and beer, and gin as of late. Several factors are at play; historically, wine and beer were imported to Québec by the French, beer is legal to sell in corner stores, and the drinking age is 18 instead of 19 as in most other provinces.
Also, given the higher number of foodies willing to experience new products and flavours, it is a perfect place for the trending artisanal beer industry to flourish in addition to local and specialized types of gin. (Here's a list of 134 different local gins: https://www.lesginsduQuébec.com/en/gins)
Pre-COVID, dining out was one of the main ways to socialize with loved ones and friends.
Variety of flavours and choice is key, and that's probably why Montréal has the highest number of independent restaurants per capita in the country and more restaurants per capita than any city in North America. An important cultural offering is the "bring your own wine" option at many restaurants. For a nominal corking fee, people enjoy a full-service dining experience without paying the higher alcohol prices restaurants charge. All of which are sorely missed during this challenging time for the restaurant industry and its supply chains.