By Jo-Ann McArthur
It's great to see events, including trade shows, returning to being real rather than virtual. There's no substitute for touching, smelling, and tasting a new product. As we ramp up for a busy fall schedule of trade shows, it might serve us all well to brush up on best practices. Based on what I saw at some recent exhibitions, many companies have a ways to go to maximize their investment. Nourish has an event and sampling division with experience in executions large and small — and virtual! Here's a taste of what we've learned over the years.
Put yourself out there again — but plan your appearance.
Taking part in a trade show should never be a last-minute decision. While renting booth space and bringing a few cases of product and sales sheets may seem simple, you're missing out if that's as far as you take it. You've invested money into exhibitor fees, booth materials and display, travel and, most importantly, you've invested your time. So how can you be sure you're getting the best return?
Start by asking yourself this question: What is my objective in participating? Or, in simpler terms, why are you there? Figure out what you want to accomplish and set a measurable KPI. Is it lead generation? The number of product samples handed out? Finding a distributor, broker, or retailer? Once you have that clear, you can design your booth to ensure you maximize your real estate, break out of the sea of booths, and achieve your goals.
On its own, seeing isn't believing. Bring samples.
Why participate in a show if you aren't going to sample your product? Tasting is believing. Make certain you're preparing and serving your product in optimal conditions — soft drinks should be cold, and burgers (meat, hybrid, or plant-based!) should be hot. In most cases, you've got one chance and one small sample (but not too small!) to get this right, so be sure your product is at its best.
Next, create an environment to enhance the sampling experience; your booth design should romance your product. One of our favourite sayings at Nourish is that food ALWAYS tastes better with a story. At the same time, you must also be clear about what you are selling. I've seen aisles of trade show booths and wondered what the actual product is. In a vast space crammed with cubicles, does your booth clearly show at a glance what you're selling and why guests should stop there? Unfortunately, so many companies are so close to what they do that they fail to see the forest for the trees.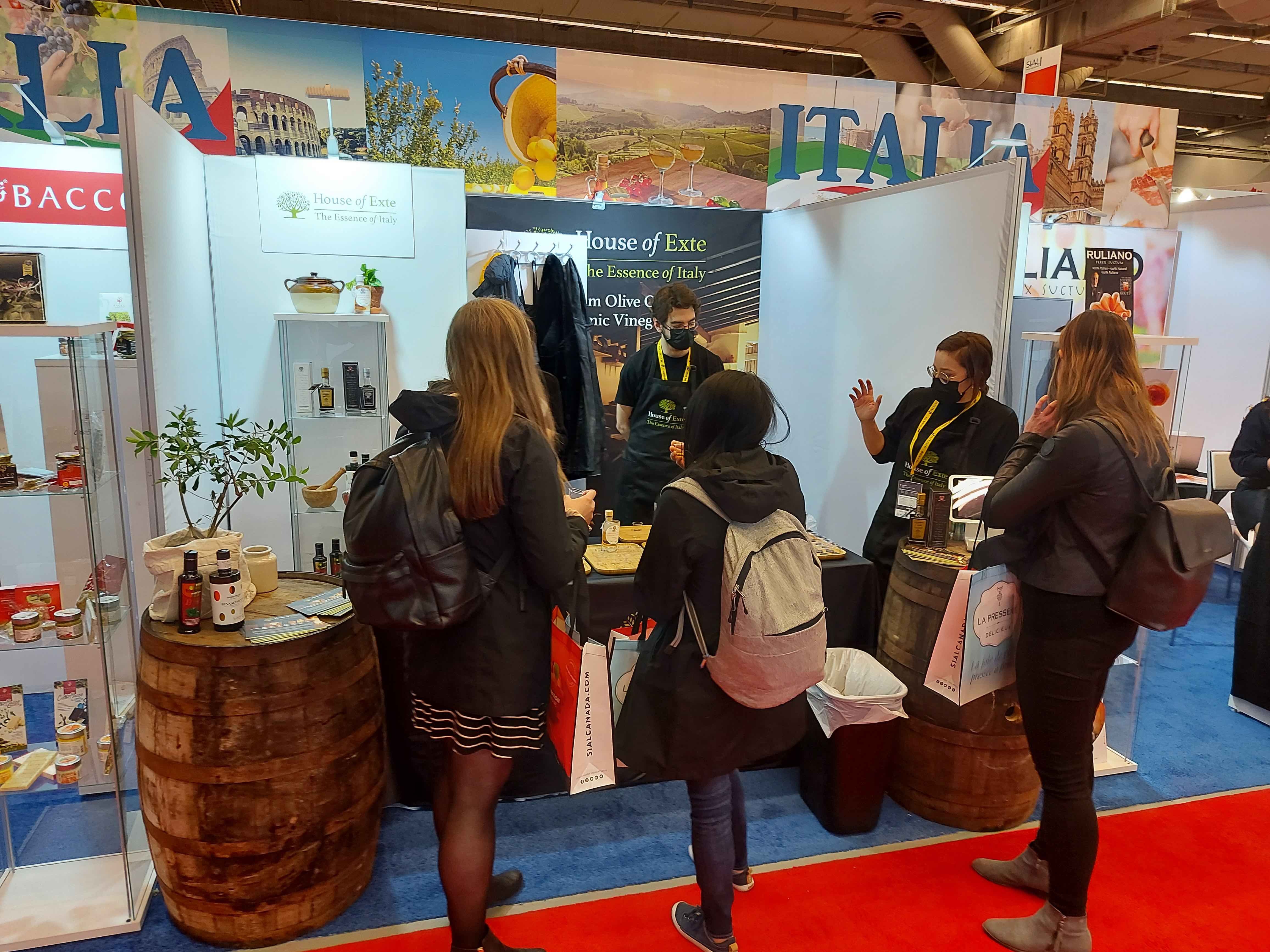 Look at the booth we created for House of Exte, a purveyor of high-quality Italian culinary products, at SIAL Canada this spring. Those olive oils and balsamic vinegars have an essential provenance which we brought to life with evocative set design and props that extend the story into the third dimension. This execution proves you don't necessarily need to invest in an expensive trade show booth to achieve your objectives.
A trade show is no place to be passive.
Never just hand out a sample; samples are for leads, not lunch. Your brand ambassadors need to be trained on your key messages and deliver those WITH the sample. Plus, have them lean into the show traffic rather than sit beside a desk waiting for a prospect to walk up. And make sure you are well-staffed and not relying upon yourself to do the work. Finally, be available to have conversations after that initial taste.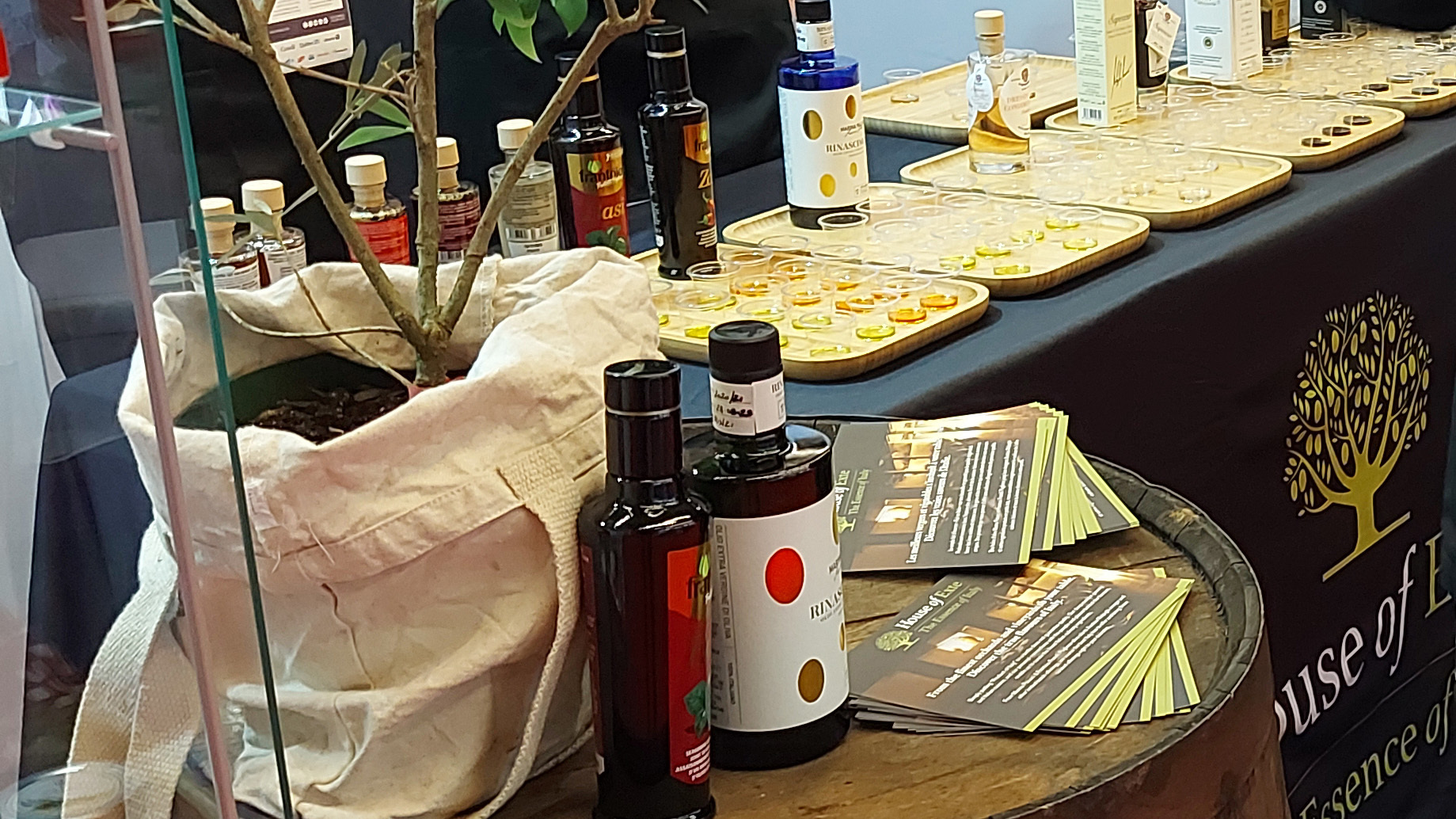 What about thinking beyond the booth — can you extend past the actual show days? Consider sending a special invitation to some key category managers who will be walking the show so that you have a warm introduction and to put your brand in their minds before they even hit the show floor. Capture names and badges so you can follow up after the show and send them more customized information and additional samples. And seek sponsorship opportunities beyond the main exhibition, like hosting an early breakfast before the doors open.
The same applies to consumer shows, with one additional criterion. Ask yourself this simple question: if your company didn't participate, what would have been different in terms of the attendees' experience? Again, this question is fundamental if you sponsor the event. If you can't answer this question, don't spend your money!
Are you eager to get back to in-person trade shows? Get game day ready and put your best foot — and booth — forward. And talk to us to ensure you spend your money wisely.